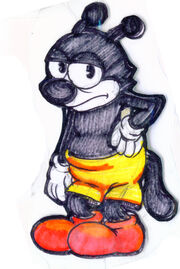 Knob Bleeker (1969-2003) is a generated
toon
and
Orlando
resident. He was generated to star in a film about an underground comics character. After his second film, the franchise lost steam and Knob went long periods between work. He moved into a planned community in Orlando, Florida, called Fern Park which soon after went to pot. A ghetto grew around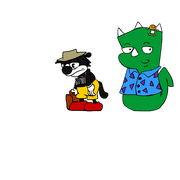 him and the interstate was moved to run through his backyard. He works in
Pasqually
's Italian restaurant, next door to him, run by his best friend,
Pasqually Antonello
, plays the saxophone in a jazz quartet with Claiborne Tibbs, Krousteh, and Charlie White, and pines for the girl at the convenience store while avoiding the mean dog that roams his neighborhood. Knob was briefly married, but his wife left him when she became involved with
Dick Swetnam
. Some time shortly after that, she died of an aneurysm.