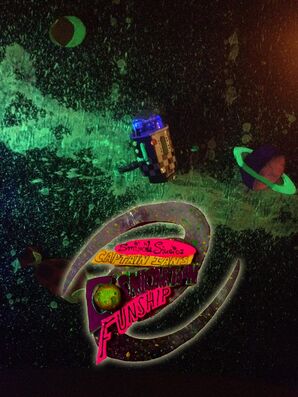 Captain Ian's Cosmicartoon Funship is the name of a Smilocide Studios webseries starring Captain Ian and Cadet Bee who, with their crew, become lost in space and find the cartoon robot, PDQ. the pilot episode was posted to the Smilocide Studios' Youtube channel. It can be watched here.
Crew of the Funship
Edit
The crew of the funship Includes the titular Captain Ian, his first mate, Cadet Bee, The cartoon-bot, PDQ, their employer, Clauncy Haundleton and his assistant, Mayzon the liaison, the ship's medical officer, Dr. Chandresekhar Fausto, the ship's custodian, Wilson, the ship's engineers, twins Castor and Clymenestra, and the chef, Stephen. Other recurring chacters include Gizmoid, the Blobulus, Lady Gralk, Cdr. Boogamans, and Santa Claus.
Pilot: Sunrise O'er the Funship: the pilot actually begins the plot, in which Captain Ian and Cadet Bee are awoken from cryosleep and find PDQ, the cartoon robot, in space.
Cartoon: Felix the Cat in "Astronomeous"
Episode 1: One Luminous Clock Against the Sky: The computer wakes Captain Ian's boss, Clauncey Haundleton, and his liason, Mayzon, from cryosleep. Then the Funship is caught in the pull of a black hole.
Cartoon: Bimbo in "Swing, You Sinners!"
Cast and Crew
Edit
CICF was created by Ianissimo and TheDutchin. It is written by Ianissimo. The theme song was written by Robert Wintour and Ianissimo and performed by Robert Wintour. Suzi McKenzie is the camera person and cinematographer. John Wilson is the grip.
CAST:
Captain Ian: Ianissimo
Cadet Bee: Carrie Anne Jeffries; Ianissimo
PDQ: Ianissimo
Clauncey Haundleton: John Wilson
Mayzon: Carrie Anne Jeffries; Suzi McKenzie
Wilson: John Wilson
Computer: Suzi McKenzie